Day 4 – Name a stereotype or cliche you can relate to.
There are oh so many little
goth stereotypes
. I think all goths dable a little in more than a few of these sub-genres of goth. By examinining each type and comparing them to my personal tastes, I will determine exactly what conglomeration of the types I am.
I like the music of the Trad Goth, but that's as far as I can relate to that particular stereotype.


Not me.



I also like the music associated with the Romantic Goth, and I do enjoy " the dark, sensual and mysterious world of Gothic created by Victorian literature and subsequent movies." I also find dead roses, crumbling graveyards and old skulls to be exquisitely beautiful. This is pretty much me in my baby bat days. I still do have leanings toward this sub-genre, but I've evolved past this narrow definition.


Partially me.



Cyber Goth is so not me. I like a small cross-section of this music, but that's as far as it goes.


Definitely not me.



I think all goths have a touch of Fetish Goth in them. I certainly do. I love wearing corsets and some of the less severe bondage gear. It is fun, and sexy.


Partially me.



I am very liberal in my politics, including peace, protecting the earth, and tolerance. I also do have crystals around my home and I do burn sage to cleanse things... and I like the music listed with this sub-genere, so, I guess that means I am a bit of a Hippie Goth. But I'm not really into the look or full-on hippie lifestyle.


A bit me.



J-goth... I like anime, but I don't really get into the Lolita thing. It's a little to... well, childish I guess, for me.


Not me.



I like some of the music associated with the Rivethead sub-genre, but that's as far as I get into this stereotype.


A tiny bit me.



My six and a half year old daughter is a Perky Goth. I am decidely not.


Not me at all.

I have my down days, and sometimes I prefer shadowy corners in goth clubs, but that's only because I can't dance. Mopey Goth is not for me. And honestly, other than angst-ridden teens and hot topic poseurs, I don't think any real goth falls into this category.


Very much not me.



Huh, I would have said I'm not a Deathrocker, but I do like the bands and artists mentioned, and I truly love horror films - especially the cheesy ones. So I gues I have a touch of Deathrocker in me after all.


Surprisingly, yes, a little me.



Baby bat.


No.



I have a nice full-time career, and therefore am definitely a Corp Goth. For a while being a goth at work was not easy, and was frowned upon by the higher-ups. But the lovable Abby Scuito, the smart and gregarious goth forensic scientist on the show NCIS has changed things for me. Now the government people with whom I work think it's cool that they have their very own government goth girl.


Very much me.



Ah, the Victorian Goth. This is where my heart lies. The clothes, the literature, the history, the music... *happy sigh*. I wish I had the money for a propper Victorian Goth wardrobe. I would love to dress that way often.


Very much me.

I am also a good deal Medieval Goth. I have a degree in Medieval Literature with a minor in history... And as the description says, I have "an enormous sense of history, and may also be found in museums, castles, churches and ancient monuments. And when [I] go to cemeteries, [I] actually look at the names and dates on the gravestones..... and live in a house filled with pre-Raphaelite prints..."


Very much me.



Not really a Metalhead, though I do like a small sampling of the music.
Not me.

Emo Goth.


No.



Vampire Goths are "pale, brooding, adverse to sunlight and attracted to strange period clothing." Yes. And I do love vampires.


Partially me.



I have a tiny smattering of Geek Goth in me and I'm not ashamed to admit it.


A tiny bit me.



I like polkadot dresses, and old horror movies, and a little bit of 50s loungieness. So, I guess there is a tiny bit of Gothabilly in me.


A tiny bit me.



Caberet Goth? Yes, but in moderation.


Partially me.



I find the concept of Steampunk goth interesting, but I'm not obsessed with Jules Vern, and I abhor the browns and bronzes favored by this sub-genre.


No brown, thank you.



I do love fantasy literature, and have a sizable collection of Brian Froud books. And I do have some old sets of wings - which I've since handed over to my daughter. So, there is a bit of Faerie Goth in me as well.


Partially me.

While interesting and exotic, Tribal Goth is not for me.


No, thank you.
So, while i have little bits and pieces of many kinds of the various goth sub-genres in me, I primarily relate to and identify with: Victorian, Medieval, Corporate, Romantic, Fetish, Vampire and Faery.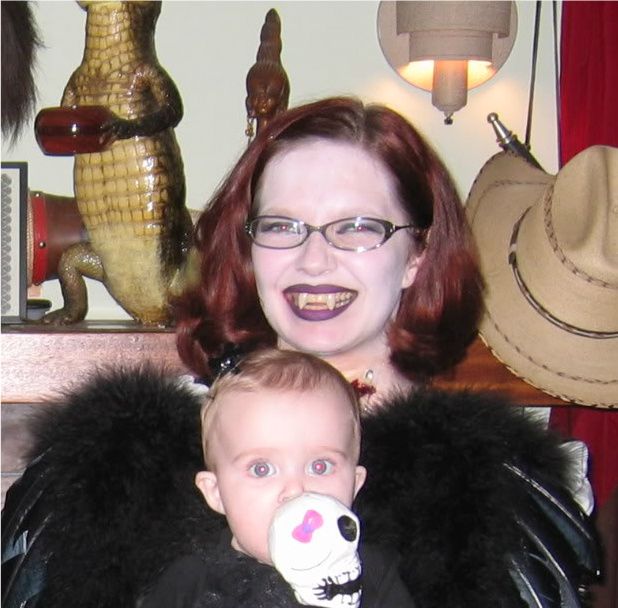 My daughter and me in 2005